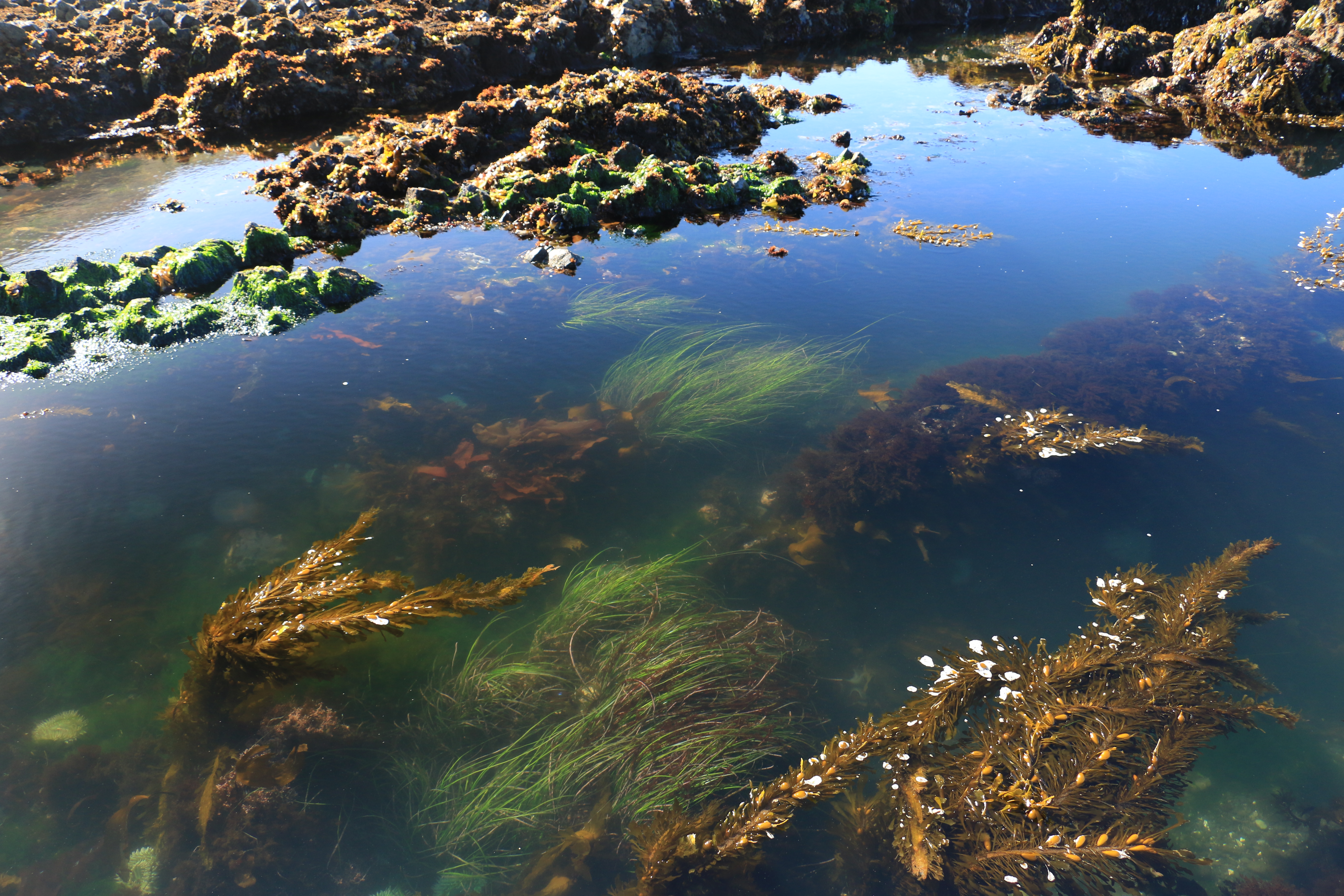 Tide pools are the wildflower bloom of the marine world. If you time it right, the colorful array of life is revealed from beneath the ocean cover for a brief, yet exciting period of time. Some of the marine life in tide-pools lives between two worlds, spending half of their time fully submerged under seawater and the other half in the air we breathe. I think tide pools are one of the most intriguing ecosystems that exist on this planet.
Why is it that these creatures, that become exposed when the tide goes out, can flaunt such vibrant colors and shapes? Wouldn't they all want to camouflage themselves as rocks to avoid getting eaten? The sun-orange sea stars, huckleberry-purple urchins, seafoam-green anemones, and assorted hermit crabs (to name a few) sport their colors loud and proud. For some of these organisms, it is still not known for certain what the purpose of their vivid coloration is, but one thing is known for certain: this attractive marine life display draws eyes from across the globe to the coast of the Pacific Northwest.
This past Saturday, June 25th, we were lucky enough to have a negative-low tide, which (as the name implies) means the lowest tide retreats to a negative number of feet relative to average sea level. For tide-poolers, that means there is a very good chance of seeing the unique marine life that resides at the farthest edge of the low-tide water line. Of course, I am just one of many tide-pool chasers. For many coastal residents and marine enthusiasts alike, tide-pools are an important place. A recent study in 2013 found that exploring tide-pools was among the top three most common activities for Oregon's marine reserve visitors. While it is encouraging to a conservationist for there to be so much interest in this natural resource, too many visitors can be harmful to such a fragile environment. I'm sure the tide pool residents wouldn't be pleased to have an army of land-dwelling visitors tromping all over their property.
In the coming weeks, as I finish up some prep work and solidify my work schedule, I look forward to exploring more of the unique places along the coast, but also learning about the people who use them. As part of my work this summer, I hope to find out how informed coastal visitors feel about issues related to marine areas in order to better inform ocean managers about any potential knowledge gaps or concerns from the general public about our oceans. While I haven't been able to immediately work out in the field, the work I will eventually be doing along the coast is a crucial element to bettering our understanding of marine reserves. Until then, I'll continue to familiarize myself with new places in Oregon during my free time!