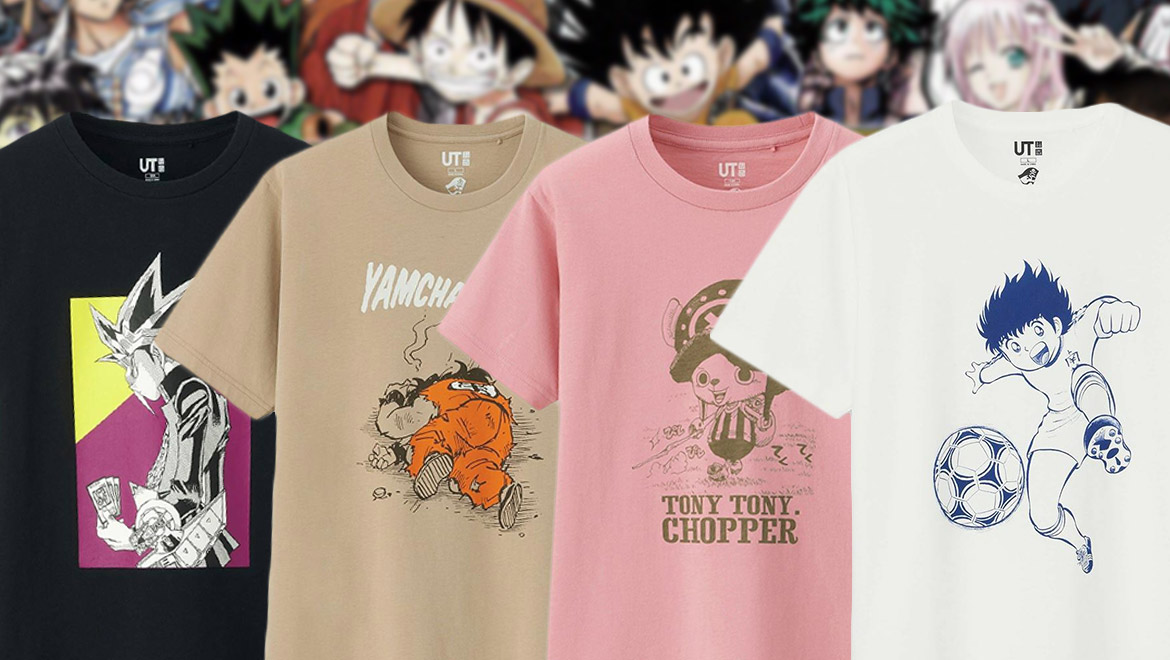 Nostalgia runs deep in our veins. As a '90s kid, the best thing was to experience the greatness that it was Saturday. Saturday mornings was when all the cartoons would broadcast. That included a lot of english dubbed anime series, which came around during the late '80s with shows like Voltron and Robotech. They were translated and re-cut for the American audiences. As '90s kids grew into teens and young adults, shows became embedded in subculture, repurposed with a rebellious bent.
In the late '90s and early-2000s anime became more mainstream in America. Cartoon Network's programming later featured more anime shows. There are more and more series being dubbed for the American audiences. They created the Toonami franchise which brought over episodes of decades-long series such as Mobile Suit Gundam, and began re-airing old episodes of Dragon Ball Z and Sailor Moon. Also along their side, Pokemon was also reairded but it had a movement of its own. Newer series like Full Metal Alchemist, One-piece, and Naruto came out and they were being translated for American audiences and released faster than their predecessors.
Anime has been in nerd territory for a while. Up until now, a series of collaborations have been increasing, looking towards anime for inspiration. In the West, cartoons are made mostly for kids. But in Japan, anime is a genre that is popular within adults and it is a norm there in Japan. There are titles like post-apocalypse drama Akira which grapple with incredulity adult themes. Naturally, street wear and anime work so well together because both mediums are heavily depending on creating a strong visual language. So when you mix both of them together, there should be some synergy there already.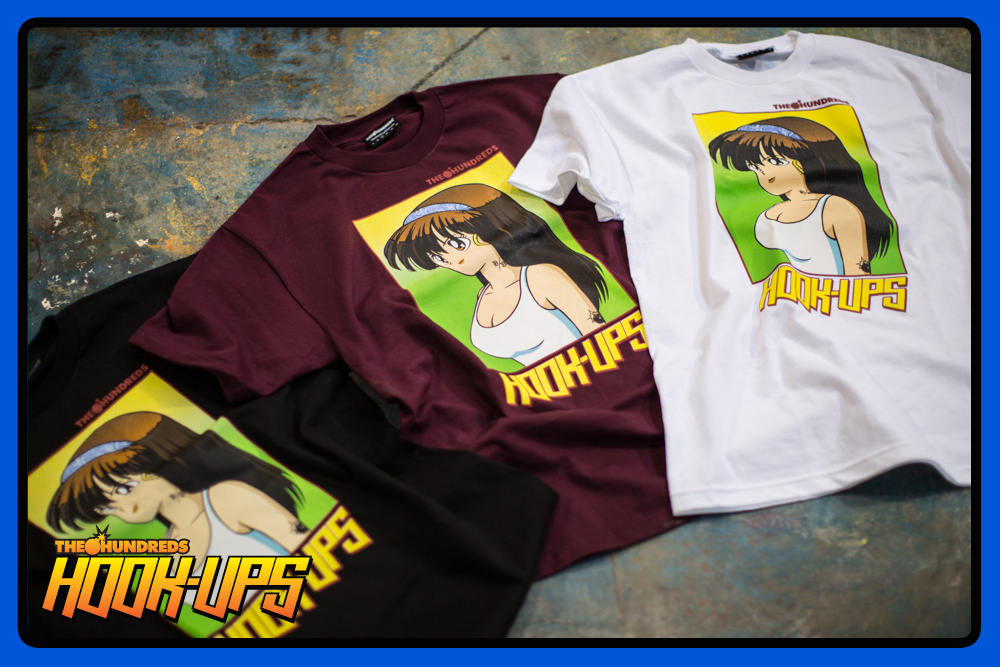 Anime characters began to inspire streetwear and skate oriented brands. In the '90s, Jeremy Klein's brand, Hook-Ups, was one of the very first to collaborate with anime (Hundreds). He added anime and manga-influenced graphics on the gear for skaters. Gear such as skate deck, grip tape and clothing (Hundreds). It started to unify in the mid-2000s, when they collaborated with The Hundreds for a project in 2013 (Hundreds). The project mixed Klein's motif with The Hundreds' mascot, Adam Bomb (Hundreds). They collaborated and created gear that features motion lines and a variety of anime style art (Hundreds).
Another early adopter of anime in fashion was Prada. In 2007, the house designed clothes for a Japanese film, Appleseed Ex Machina. Miuccia Prada was a fan of the series in 2004, telling Fashion Television: "Watching the previous 'Appleseed,' I thought that the expression of contrast in man and machine, violence and love was wonderful. I designed something contemporary that matches the movie's feelings." (Prada Nightwear).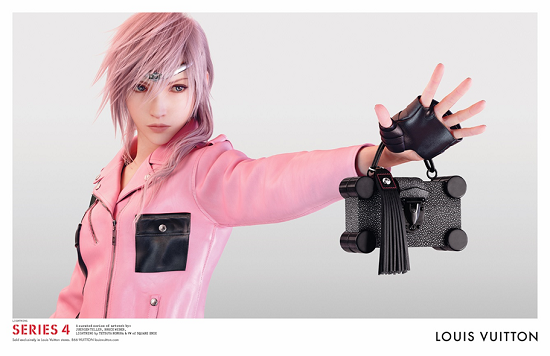 New anime was continuously being released and the more popular it became. More and more people became more interested in anime. As anime became more exposed to the world, in 2016, more luxury brands decided to collaborate with anime artists. Louis Vuitton was able to get a license for a character from Square Enix, Lightning (LIGHTNING BECOMES…). The character was designed by Isamu Kamikuryo for Final Fantasy XIII. They decided to star Lightning in its Spring/Summer 2016 Campaign. Nicolas Ghesquiere, the art director of Louis Vuitton women's clothing,  said in a press release:"It's clear that the virtual  aesthetic of video games is predominant in this collection. If we push the reflection about heroines, or what might constitute the nature of a woman whose actions can be so courageous that she becomes superior and iconic, it becomes obvious that a virtual entity integrates with the founding principles of  the Maison. Lightning is the perfect avatar for a global, heroic woman and for a world where social networks and communications are now seamlessly woven into our life. She is also the symbol of new pictorial processes. How can you create an image that goes beyond the classic principles  of  photography and design? Lightning  heralds a new era of expression" (LIGHTNING BECOMES…). 
Later, brands such as Supreme collaborated with anime artists. This was when people saw that it was a natural fit between anime and streetwear (Gorsler). In 2017, a Supreme x Akira drop featured the iconic art style on a collection of polo shirts, worker jackets and accessories (Gorsler).  There had been similar collaborations before, but few earned the same level of hype. Supreme at this time was powerful and was the hype everyone wanted to get in on (Gorsler). Uniqlo, a brand founded in Japan, has a variety of collaborations. Collaborations such as Gundam and Sailor Moon (McGarrigle). They just released a line of Naruto and Dragonball Z T-shirts in the US, with each design more of the retro comic strip variety as opposed to computer-aided and tech designs (McGarrigle).
There are also people who are obsessed over both mediums, both anime and streetwear. It manifests the streetwear realm to aspiring artists and designers trying mock up idealized versions of non-existent products and collaborations. Jynwaye Foo is an artist who loves to draw anime and loves streetwear (McGarrigle). She decided to create a brand with her anime art style designed on the variety of products. From shirts and hoodies to sides bags and inhalers (McGarrigle).
What this comes down to is that anime and streetwear are both highly active communities full of passionate and engaged nerds. There is absolutely nothing wrong with that. When two things you really like come together, it's as if one validates the other. It's not surprising  that today, millennials from around the globe are using social media as a platform to exchange their real-life interpretations of childhood memories.
Cited Sources:
Gorsler, Fabian. "Supreme X 'Akira' FW17 Collection: Here's Your First Look." Highsnobiety. 30 Oct. 2017. Web. 17 Mar. 2021.
Hundreds, Bobby. "THE HUNDREDS X HOOK-UPS." The Hundreds. The Hundreds, 19 Feb. 2013. Web. 17 Mar. 2021.
"LIGHTNING BECOMES A FASHION ICON IN LOUIS VUITTON'S "SERIES 4″ CAMPAIGN." "LIGHTNING BECOMES A FASHION ICON IN LOUIS VUITTON'S "SERIES 4″ CAMPAIGN" – Square Enix North America Press Hub. 05 Jan. 2016. Web. 17 Mar. 2021.
McGarrigle, Lia. "Jynwaye Foo's Anime Customizations Turn Streetwear Into Art." Highsnobiety. 26 Feb. 2019. Web. 17 Mar. 2021.
McGarrigle, Lia. "Uniqlo UT Collab With Cult Anime "One Piece" for a New Capsule." Highsnobiety. 16 June 2017. Web. 17 Mar. 2021.
"Prada Nightwear." Appleseed. Web. 17 Mar. 2021.