The Hanford Nuclear Reservation
The Hanford Nuclear Reservation is a decommissioned nuclear production complex located by the Columbia River in Hanford, Washington. The site was established in 1943 and the final reactor, N reactor, operated until 1987. Hanford Nuclear Reservation was created under the Manhattan Project, the U.S. led research and development project that produced nuclear weapons for World War II. It was home to B reactor, the first plutonium production reactor in the world, which was in turn used to produce the plutonium for the nuclear bomb that detonated over Nagasaki, Japan. Hanford expanded during the Cold War, adding reactors and plutonium processing complexes that ultimately contributed materials for over 60,000 nuclear weapons. Weapons production projects ceased after the Cold War, but Hanford continued to supply nuclear energy for the surrounding area.
These days one would most likely hear of Hanford in the context of the environmental and public health issues that it has caused; a class action case initiated in 1990 consolidated thousands of plaintiffs who alleged that Hanford's groundwater seepage, river pollution, and atmospheric discharges were responsible for various health problems such as thyroid disease and cancers.
The OSU Downwinders Project
The "OSU Downwinders Project", headed by Doctor Jacob Hamblin and Doctor Linda Richards, is oriented towards two main goals: developing an archive of case materials supplemented with oral history interviews and producing the first detailed historical studies of the dose reconstruction project, then linking it with issues in the history of science, environmental history, and science and technology studies. The Hanford Dose Reconstruction Project, although controversial, is the basis for most references of thyroid exposure from Hanford. The team at the Downwinders Project seeks to tell the story of Hanford in its various scientific, environmental, historical, and social contexts, as accurately as possible.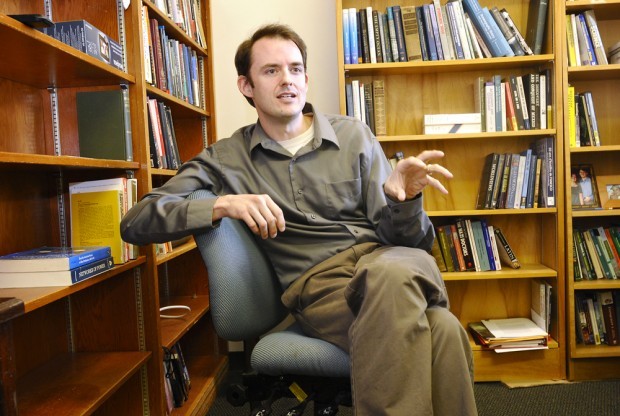 Workshop
On June 21st and 22nd, Dr. Hamblin and Dr. Richards are holding a symposium to discuss the methodological, conceptual, ethical, and social justice challenges of telling the full story of radioactive pollution. Over a dozen participants will meet to discuss various topics, such as measuring harm and legal recourse. Please join if you are interested!
Event Details
When: June 21 (9am-8pm) and June 22 (9am-5:30pm)
Where: Memorial Union room 211
Additional Information
CATEGORIES: Academics Community Sustainability Energy Events and Outreach Health and Safety Research
---