Acacia fraternity offers help after the storm
Posted March 12th, 2012 by Mike
Acacia fraternity members are heading to Indiana to provide aid to those affected by a series of tornadoes
Several members of Oregon State University's Acacia fraternity won't be taking a road trip toward a warm beach or a ski resort during spring break, but rather to southern Indiana. They plan to drive U-Haul trucks filled with donated items 2,330 miles to tornado-ravaged Henryville, Ind., and spend a week contributing labor to the town's cleanup effort.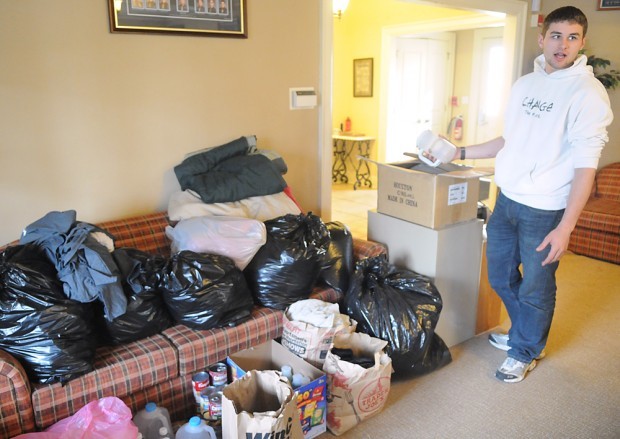 "Our motto is 'human service.' It's ingrained in our minds to help out when something like this happens," said Joel Zeni, a forest and civil engineering major and coordinator of Acacia's donation drive.
Parts of Indiana, Kentucky, Ohio, Alabama and Georgia were ravaged by a series of tornadoes and strong storms March 2 and 3. Several rural towns, such as Henryville, were hit hardest. At least 41 people are confirmed dead due to the storms' damage.
After learning of the destruction, members of OSU's Acacia chapter contacted their national office, located in Indianapolis, to find out how to help. The national office directed them to Henryville.
Before they leave, the fraternity is looking for donations of plastic tarps, trash bags, paper products such as toilet paper, tissues and paper towels, toiletry items, dog and cat food and yard tools. They're stashing the collected items in a room in the fraternity house, located at Northwest 29th Street and Van Buren Avenue, until they leave March 23.
How many fraternity members going to Henryville depends on how many donations are collected and how many U-Haul trucks they need, but 15 members have so far agreed to go on the trip. Those who go will stay at Acacia chapters at five campuses along the way, and stay until the end of spring break, March 30. They'll work with United Way on clean up and repair projects.
Acacia is OSU's only Greek chapter currently working to support the recent tornado victims, but the university's 37 other social, multicultural and academic fraternities and sororities also conduct philanthropic work with significant results.
Bob Kerr, coordinator of OSU's Greek life office, said Greeks contributed 22,000 hours of community service and raised more than $125,000 in charitable donations last year. All chapters aim to raise $150,000 in total donations this school year.
"This is pretty remarkable work," Kerr said.
Some of the money raised goes to the fraternity or sorority's national fundraiser while some stays with local organizations. For example, OSU's Kappa Delta sorority chapter raised more than $35,000 this year with Mock Rock, an annual lip-syncing competition held March 1 that drew participation from 30 different fraternities and sororities. It's one of the largest Greek philanthropies at OSU.
While 20 percent of their funds go to Prevent Child Abuse America, the sorority has donated the remaining total — more than $28,000 this year — to Benton and Linn counties' Center Against Rape and Domestic Violence, said Tori Lynch, this year's Mock Rock co-chair. CARDV uses the funds to support its Plain Talk violence prevention classroom program for children grades kindergarten through sixth and their parents.
OSU's Acacia chapter doesn't work with one particular charity — in the past they've raised money for St. Vincent de Paul, St. Jude's Children's Hospital and the American Red Cross, amongst others — and the members are looking forward to directing their efforts to help rebuild Henryville, a place no one in the house has ever been.
"It will be good for us to see the devastation, and maybe help someone through it," Zeni said.
To donate items to Acacia's drive, contact Zeni at zenij@onid.orst.edu.
Contact Gazette-Times reporter Gail Cole at 541-758-9510 or gail.cole@gazettetimes.com.
Source: http://www.gazettetimes.com/news/local/fraternity-offers-help-after-the-storm/article_8942640c-6bd4-11e1-81a0-001871e3ce6c.html#ixzz1ovlIp7xv