We all need clothes. Frequently, we find ourselves buying more clothes. We add to our closets when our old clothes don't fit us anymore or are completely falling apart. We update our wardrobe for the new school year, to keep up with new fashion trends or when we get a new job. When we buy clothes, many of us look to malls, department stores and our favorite online shops. New clothes have become such a normality that we often forget to realize the negative impact of continuously buying new clothes.
What do you think when you hear the word new? When we buy a used car, we refer to it as our "new" car. Although it is not brand new to everyone, it is brand new to us. Just like they say, one person's trash… Is another person's treasure.
Now we just need to apply that same perspective to clothing. Clothes are not meant to be viewed as disposable. According to the Council for Textile Recycling, the U.S. generates around 25 billion pounds of brand-new textiles per year. Around 85 percent of that eventually ends up in a landfill. That means that the average American trashes about 70 pounds of textiles every year.
It is time we start regularly buying used clothes. Although it's very important to donate or sell our old clothes, it's even more crucial that we buy secondhand items in the first place. Buying used items is a significant factor in decreasing our impact on the environment. The average t-shirt wastes 700 gallons of water during manufacturing! So, if every American repurposed just one more t-shirt, we would save over 220 billion gallons of water and we would also stop over 1 million pounds of CO2 from being released into our atmosphere.
Some may believe that shopping at secondhand stores is impractical, but in reality secondhand stores receive more clothes than they know what to do with. This means that they are constantly receiving new items, and that they have a very wide variety of goods in stock. You can find nearly everything you need (and want) at a thrift shop, not to mention everything is so much cheaper.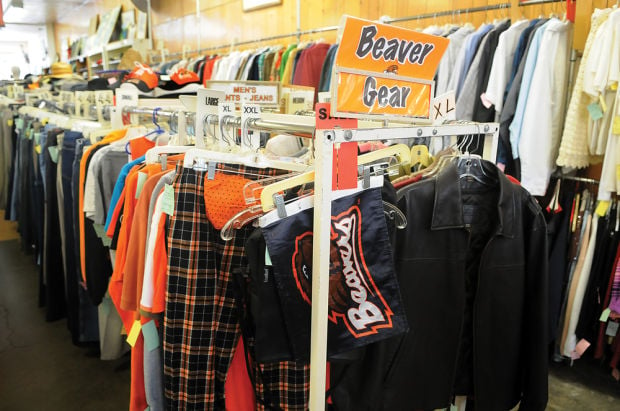 Thrift stores are a great alternative for new clothes but they are also a great alternative for other things such as household items, furniture and electronics. Instead of picking things up at a department store, you can grab stuff from the thrift store. For example, a desk lamp or dining room table, holiday decorations, phone chargers, a travel mug or a jigsaw puzzle for a rainy day. Chances are, you'll find it. What about an awesome, inexpensive DIY (Do It Yourself) project? Your local thrift store carries all of your inspiration.
There are so many kinds of thrift stores, from unique vintage shops to non-profit organizations, and it can be so much fun. From the perfect work shoes to the ugliest christmas sweater you've ever seen, you will find practicality and stumble across the weirdest, oddest items. Whenever I travel, I always make sure to visit the local thrift shops because it's such an exciting adventure.
Now is the time to rethink our wardrobes and find an alternative to new textiles. Look for your "new" clothes at your local thrift shops and consignment stores, get creative at funky vintage shops and even look for used clothes online. Clothes are not disposable and it's time that we all become responsible shoppers.
Support your local secondhand stores:
Sources:
www.epa.gov/osw/conserve/materials/textiles.htm
http://www.weardonaterecycle.org/about/issue.html

CATEGORIES: Community Sustainability Waste Reduction
---