On Campus
A first year student who does not live within a 30 mile radius of Oregon State is required to live on campus their first year. There are a total of 15 resident halls you could live at, but the most common option according to Oregon State's "UHDS" website is a double in Buxton hall, which is close to the average price of most doubles on campus. However, price is very subjective when only looking at the numbers. One can argue that the price of Buxton ($8610, without meal plan) versus the price of Finley ($8370, without meal plan) is similar in cost, but not quality.
Buxton
Finley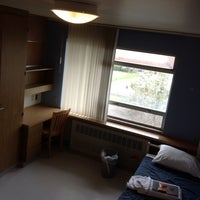 Although Buxton hall was built in 1961, the building has undergone full renovations in 2001 as opposed to Finley, which was built in 1966 and was never touched since. In the past year, on campus housing cost has drastically increased. An average room in 2015-2016 cost $7878 (without meal plan) and now has gone up to $8610 (without a meal plan). This is partly due to the increased number of incoming students. In the last ten years, Oregon State's main campus enrollment increased by nearly ten thousand students. In the past five years, Oregon State has admitted more students than it can house, causing students to be stuffed into rooms designed for only two people or temporarily placed with a resident advisor. Due to the small room size, it is common to bunk/loft your bed, which cost $210. However, if a bed is left unlofted it cost $100 in labor. It is also common to decorate your room and hang up posters, pictures, calendars, etc, but if you pierce a hole in your wall, it can cost up to $440 to fix! And that's not it, if your door is damaged it cost $550 to replace! $350 in parts and $200 in labor, even if you know how to fix it yourself. Everything has a cost, and unfortunately, so does a room change. Having a roommate can be a double edged sword and sometimes it's best to put yourself in a different environment. On top of the hassle of moving all of your stuff into another room, Oregon State charges you with a $75 room change fee.
The saying "you have to spend money to make money" has never been truer when referring to education. However, education is an investment and the cost of on campus housing can surpass the cost of tuition. There is financial aid, grant and scholarships to help compensate for the cost of tuition, but nothing for housing. I understand that Oregon State's first year housing policy is for students to become familiar with the campus and meet other students, but transfer students or students who took a year(s) off after high school are exempt from the policy, but are in the same situation as first year students.
http://https://uhds.oregonstate.edu/sites/uhds.oregonstate.edu/files/rate_sheet_for_2017-18_-_final_7-17-17.pdf
Off Campus
There are a number of off campus housing options, all at different price ranges so you can find one that fits your needs and budget. Since Corvallis is a college town, almost everything revolves around Oregon State, so housing options are not far from campus. The most expensive option is called the Retreat. Because it is the most expensive it's arguably the nicest. The cost of a 4 bedroom, 4 bath house is about $8,700 for a full year, which is the highest priced housing. The house comes fully furnished with high speed internet and cable. The retreat comes with high quality amenities such as a game room, weight room, tanning beds, swimming pool, computer lab, bike storage and complimentary coffee bar, while being less than 1 mile away from Oregon State.
In the medium price range is Tyler Townhomes. The most common floor plan comes fully furnished with internet, cable tv, a kitchen, living room, 5 bedrooms and a 3 car garage. Each bedroom is very spacious and comes with its own private bathroom. The house is fully carpeted with a heater in each room to customize temperature throughout the house. The cost for a full year is $7,200 per person and is only half a mile away from campus.
At the lowest price point is Orchard Crest Apartments. Orchard crest comes with 2 bedrooms and 1 bath. The apartment comes with heat, internet, a kitchen, living room and 1 parking space. It cost $4,800 per person and is less than half a mile away from campus.
Not only are all these options cheaper than on campus housing, each bedroom is bigger in square footage, but is meant to accommodate for one person. Keep in mind all these options are a full 12 month lease compared to Oregon State's more expensive 9 month contract, let alone most on campus housing does not come with the high quality amenities, nor privacy of most off campus housing. With the rapid growth of Oregon State's population, on campus housing will only become more limited and possible more costly. Allowing first year students to live off campus will not only ease the over capacitated dorms, but also allows students to be flexible with their budget. There are plenty of campus solutions, all at different price ranges to fit each student's needs. Oregon State should think about revising the first year on campus housing policy to at least make it optional.